Earn Your CDL
The trucking industry is an essential part of our nation's economy. The demand for qualified drivers continues to grow and truckers can earn more than $72,000 a year.* If you are interested in starting a career in this industry, you will first need to earn your CDL.
To obtain your commercial license, you will need to pass a CDL test. There are two parts to this exam: a written test and a road test. The driving test will be conducted with the type of commercial motor vehicle (CMV) that you intend to operate after your training is complete. You will need to understand important safety topics related to truck driving as well as how to drive a tractor-trailer.
While you can study for and pass this test without attending truck driving school, graduating from a licensed training program makes the process easier. Additionally, most employers prefer to hire drivers that have completed CDL school.
CDL School Locations
Phoenix Truck Driving School has locations in New Mexico, Texas, and Arizona. Although there are some variations in the programs offered, the training at any of our schools is high-quality and will help prepare you for your career.
Albuquerque, NM
We are the only truck driving school in Albuquerque with a trucking company (Swift) at the facility. This allows you to see an active terminal, giving you more exposure to the real world of trucking. Our students are encouraged to talk to the drivers that pass through to get their perspectives about the industry and their day-to-day experiences. Our Albuquerque CDL program is accelerated and can be completed in as little as four weeks.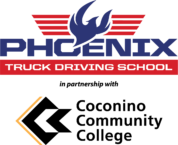 Flagstaff, AZ
Our location in Flagstaff provides the same high-quality, accelerated CDL training as our other institutions. This school operates in partnership with Coconino Community College.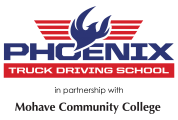 Kingman, AZ
Phoenix Truck Driving School offers CDL training in Kingman, AZ, in partnership with Mohave Community College (MCC). You can complete class in as little as four weeks with this accelerated program. The curriculum is similar to our Albuquerque school and you can earn hazmat, tanker, and doubles/triples endorsements.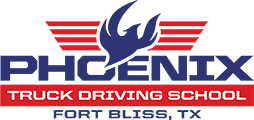 Fort Bliss Army Base
Phoenix Truck Driving School at Fort Bliss serves active military, veterans, and military families. We specialize in reintegration and are a member of the Career Skills Program. Eligible students may be able to take advantage of GI Bill®** funding to complete their CDL training at our institution.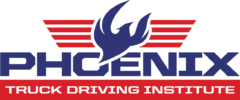 Phoenix, AZ
Phoenix Truck Driving Institute has been offering high-quality CDL training in Phoenix, AZ, for over a decade. You can earn your license in as little as four weeks and this campus offers day, night, and weekend classes. You can also choose to attend full-time or part-time. This allows you to complete your education with a schedule that works for you.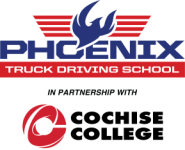 Douglas, AZ
Phoenix Truck Driving School has partnered with Cochise Community College to offer our high-quality accelerated CDL training in Douglas, AZ.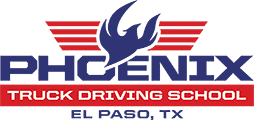 El Paso, TX
This CDL school offers comprehensive training for civilians in and near El Paso, TX. You will learn all the necessary skills to pass the CDL exam, including the written and skills tests. Our El Paso school has an accelerated program that can get you on the road in as little as four weeks.
Phoenix Truck Driving School
Earning your CDL at Phoenix Truck Driving School can be the first step on the road to a rewarding new career. We strive to give our students all the tools they need to start successful careers in the trucking industry.
Contact us today to learn more about our CDL training.
*Professional truck drivers earn a mean annual wage of $53,090. The top 10% of truck drivers make more than $75,000 per year according to the 2022 Bureau of Labor Statistics.
https://www.bls.gov/oes/current/oes533032.htm
**GI Bill® is a registered trademark of the U.S. Department of Veterans Affairs (VA).  More information about education benefits offered by VA is available at the official U.S. government website at http://www.benefits.va.gov/gibill.